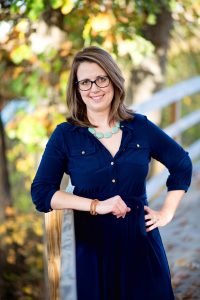 Angie Hockman enjoys writing modern romance with sizzling thrills…because what's life without love and adventure? 
Her professional background includes stints in law, government, and education, but she's still not sure what she wants to be when she grows up. Besides a writer, of course. Always a writer.
When she's not burning up the keyboard in the late hours of the evening or working at her day job as the communications manager for a charitable conservation fund, you can find her roping her unsuspecting husband into all kinds of adventures. Her favorites include descending into a dormant volcano in Iceland, snorkeling with penguins in Galápagos, and riding a hot air balloon through Virginia's wine country.
Angie would love to hear from you!
To send her a message, visit the Contact page. You can also follow her on Twitter, Facebook, and Pinterest.
Angie is a member of Romance Writers of America, Northeast Ohio RWA, and RWA Mystery Suspense Writers, and is represented by Patricia Nelson of Marsal Lyon Literary Agency. 
* Photos of Angie Hockman by Danielle Fantis Photography